WHAT IS
AUTHARMOR

AND HOW IT

WORKS
WHY
AUTHARMOR?
Passwords are old tech

Passwords are stolen and compromised every day. Go Password-less and get more secure.
Better 2FA

Typing codes for 2FA is slow and cumbersome. 2FA using biometrics or a security key is the better choice.
Modern Hardware Security

Cryptographically secure using security chips inside mobile devices and security keys that enable provable cryptography.
Powerful API and Dashboards

Integrate into anything using our API's. Developer dashboards gives you more control. View auth history, statistics, manage users and more.
Get started with our free plan and keep going with 250 FREE auths each month. No credit card required!
Start Free!
HOW AUTHARMOR
COMPARES
We have more features, better security, better user experience than anyone else out there. We are the best authenticator solution bar-none. Checkout how we stack up to the competition.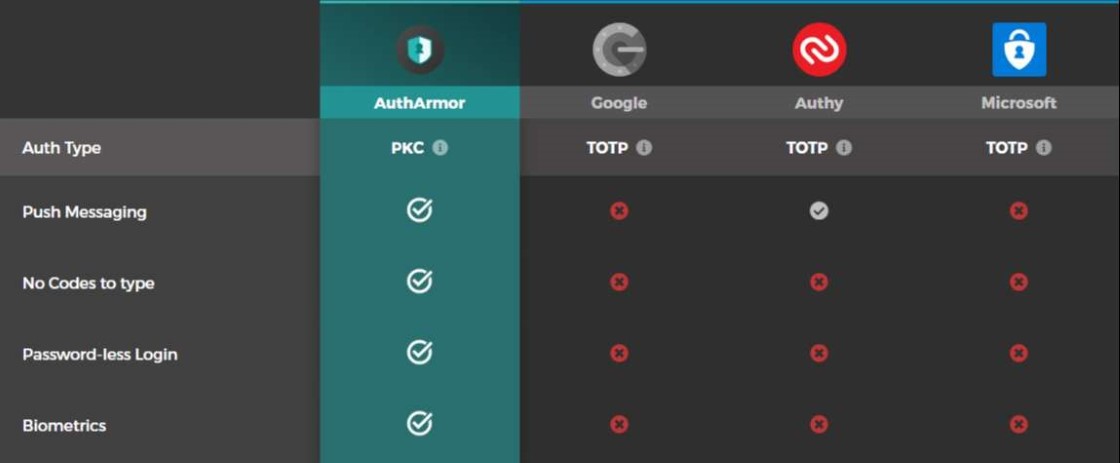 FEATURES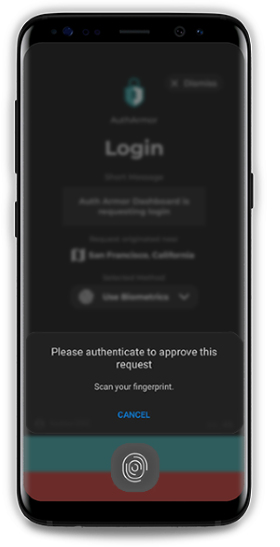 BIOMETRICS
The Auth Armor app integrates with the mobile devices biometric sensors, utilizing both fingerprint and FaceID where applicable. Upon a successful biometric scan, authentication requests are signed using the unique secure chip inside the users mobile device. Fast, easy and secure.
DEVELOPERS

_

FIRST()
Built by developers for developers. Our simple API is easy to use and we have plenty of quick-start samples and guides, with more being added frequently. Check back soon!
curl -XPOST -H "Authorization: Bearer TOKEN" -H "Content-type: application/json" -d '{
"auth_profile_id": "706751cf-012d-4576-b639-654d0dfbdb5c",
"action_name": "Login",
"short_msg": "Login requested detected from IP: 192.160.0.1",
"timeout_in_seconds": "120",
"accepted_auth_methods": [
{
"name": "mobiledevice",
"rules": [
{
"name": "forcebiometric",
"value": "true"
}
]
},
{
"name": "securitykey"
}
]
}' 'https://api.autharmor.com'